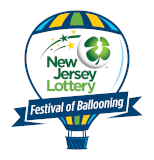 Countdown to Festival Fun

Until the 2020
Quick Chek New Jersey
Festival of Ballooning!
READINGTON, NJ --- Colorful balloons filling the sky. Concerts. Amusement rides. Fireworks. Food. All in one place.

At the 37th annual QuickChek New Jersey Festival of Ballooning in Association with PNC Bank, the largest summertime hot air balloon and music festival in North America and the premier family entertainment attraction in New Jersey, there's plenty to see and do.

And with a headlining concert by The Beach Boys, it's sure to be fun, fun, fun.

The three-day Festival, July 26-27-28, 2019 at Solberg Airport in Readington in Hunterdon County, features the rare opportunity to see the awe-inspiring spectacle of up to 100 sport and special shaped hot air balloons from around the world taking to the skies twice each day in mass ascensions over the scenic Central New Jersey countryside.

The balloon inflations and ascensions take place in the early morning and early evening. In between, the Festival offers hours of affordable family entertainment including a live concert series; a fireworks display; a nighttime balloon glow where the balloons are inflated and lit up like giant lanterns; an extreme trampoline show; children's amusement rides and age-appropriate entertainment; exciting experiential attractions and exhibits and hundreds of crafters and food vendors.

"Whether you come every year, you've been in here in the past or have never come out before, this is the year you should be here," said Festival Executive Producer Howard Freeman. "We're very proud to present our greatest lineup of special shaped balloons and a great concert lineup with music for all ages. There is something for everyone and we're looking forward to launching the biggest party of the summer."

Perhaps no special shape balloon better represents summer in New Jersey than the 115-foot-tall QuickChek flying lighthouse.

New special shaped balloons include a pair of 86-foot-tall cops and robbers balloons (Keystone Willy and Con Air); a 98-foot-tall Kermie the Frog; and a 100-foot-tall pink High Kitty.

Returning favorite shaped balloons include a 92-foot-tall Simba the Lion, the 110-foot-tall Unique Photo panda, the 105-foot-tall Bimbo Bakeries bear, and an 80-foot-tall Pepsi football.

The Festival will once again honor America with the 5-story tall PNC American Flag balloon; created following 9/11, it is the world's largest free-flying American flag and has become an annual crowd favorite.

Hot air balloon rides and tethered rides are available with advance purchase strongly suggested for a balloon flight. Visit www.balloonfestival.com for details.

Grammy-award winning children's recording artists Dan Zanes and Claudia Eliaza perform in concert Friday, July 26 at 1:30 p.m. with ABBA The Concert presented by PNC Bank in association with Magic 98.3 Friday night at 8:00 p.m. followed by a fireworks display.

Country-pop sensations and Grammy Award winners The Band Perry performs Saturday night, July 27 at 8:00 p.m. presented by the New Jersey Lottery and in conjunction with the beautiful nighttime hot air balloon glow.

The greatest hits of summer fill the air when the legendary Beach Boys headline Sunday afternoon, July 28 at 3:00 p.m. in association with Q104.3.

Advance tickets offering great savings are available at all QuickChek stores, by calling 1-800-HOT-AIR9 or online at www.balloonfestival.com.

###

MEDIA CONTACT:

Russ Mensch

Mensch & Company, Inc.

Public Relations & Event Marketing

phone: 201-797-2448

|

Back to index...