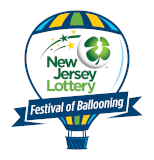 Countdown to Festival Fun

Until the 2020
Quick Chek New Jersey
Festival of Ballooning!
Balloon Festival, PNC's 5 Story Tall Special Shaped Balloon is Largest Flying Display

of the Stars & Stripes

RIDGEFIELD PARK, NJ --- It's so big it couldn't wait for the Fourth of July.

The QuickChek New Jersey Festival of Ballooning in Association with PNC Bank launched the nation's Independence Day celebrations a day early by raising the world's largest free-flying American Flag on Wednesday, July 3.

The "PNC Salutes America" special shaped hot air balloon stands a majestic 53 feet tall, is 78 feet wide, 29 feet deep, and weighs 530 pounds. The size of a 5-story building, the red, white and blue balloons requires 30 million BTUs of propane to be fully inflated.

The American Flag balloon was created by pilot Barry DiLibero of Chester Springs, PA following 9/11. DiLibero and his wife Teri were living in the geographical epicenter of the attacks on New York City, Shanksville, PA and Washington, DC.

The balloon took tethered flights at Overpeck County Park in Ridgefield Park, NJ on Wednesday; the rebuilt World Trade Center complex and Freedom Tower can be seen diagonally across the Hudson River.

Completed in May 2002, QuickChek New Jersey Festival of Ballooning executive producer Howard Freeman and PNC first brought the balloon to the New York area on Flag Day 2002. It then became a crowd favorite at the annual balloon festival in Readington, NJ, in July. The balloon has launched the nation's celebrations and flown at the festival, the largest summertime hot air balloon and music festival in North America, every year since.

It is one of 100 sport and special shaped balloons that will fly at this year's 37th annual QuickChek New Jersey Festival of Ballooning, July 26-27-28, at Solberg Airport in Readington, NJ.

The event also recognized local female veterans for their service to the country; five former members of the United States Army and Navy were honored for their combined 64 years of active service including multiple tours of Iraq.

For more information visit www.balloonfestival.com.

###

MEDIA CONTACT:

Russ Mensch

Mensch & Company, Inc.

Public Relations & Event Marketing

phone: 201-797-2448

|

Back to index...