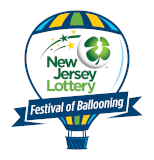 Countdown to Festival Fun

Until the 2020
Quick Chek New Jersey
Festival of Ballooning!
READINGTON, NJ --- June may be the month for weddings but a romantic hot air balloon ride in July can make celebrating your anniversary just as special.

The Quick Chek New Jersey Festival of Ballooning in association with PNC Bank is celebrating its 25th Anniversary July 27-28-29, 2007 at Solberg Airport in Readington, NJ, and is offering a free hot air balloon ride to one lucky couple who are looking to celebrate their 25th wedding anniversary by renewing their wedding vows at the Festival.

"Floating in the sky in a hot air balloon, much like marriage, is truly a magic carpet ride," said Howard Freeman, executive producer of the Quick Chek New Jersey Festival of Ballooning, the largest summertime hot air balloon and music festival in North America. "Renewing your vows as you ascend into the clouds over the scenic Hunterdon County countryside is a very romantic way to mark this special occasion."

The Festival is providing the balloon ride for free and will also offer the happy couple a bottle of champagne to celebrate one of the most memorable days of their lives in return for the couple's cooperation in publicizing the event. A copy of the marriage certificate will be required for authenticity.

"We've had many people propose in a balloon over the years and as we're celebrating the Festival's 25th anniversary in 2007, we thought it only right to honor a couple celebrating 25 years of wedded bliss as well," said Freeman.

The Festival, like many marriages, had a humble start, first taking off with just a dozen balloons at a local truck stop in western New Jersey 25 years ago. Today, the Quick Chek New Jersey Festival of Ballooning is the premier family entertainment event in the Northeast, attracting 175,000 people and worldwide media coverage. The three-day event offers morning-through-night family entertainment including five mass hot air balloon ascensions, a fireworks extravaganza, a nighttime balloon glow, live musical performances from Chuck Negron, former lead singer of Three Dog Night; Blues Traveler; and Creedence Clearwater Revisted; amusement rides and children's interactive exhibits, hundreds of arts & crafts and food vendors, and up to 125 sport and special-shaped balloons.

Couples who are celebrating their 25th wedding anniversary in 2007 and are interested in renewing their vows at the Festival should send their information including their names, city in which they live, telephone number and date of their anniversary to

[email protected]

.

|

Back to index...