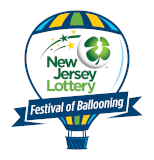 Countdown to Festival Fun

Until the 2020
Quick Chek New Jersey
Festival of Ballooning!
When festival goers' attention is not on the balloons in the sky, they'll have plenty to do on the ground as we proudly present our biggest hands-on, interactive displays and exhibits ever.

First, we're proud to announce that AT&T, formerly Cingular, has renewed its Festival sponsorship and that they're

offering plenty of activities at this year's Quick Chek New Jersey Festival of Ballooning, including their new AT&T hot air balloon.

The AT&T Pit Stop rolls into this year's Festival with the newly branded No. 31 AT&T Chevrolet driven by Jeff Burton, who finished seventh in the championship point standing in 2006.

Visitors to the Pit Stop can try their luck with the "tire changing challenge" -

a replica NASCAR tire changing station that lets you experience all the thrills of being part of Jeff Burton's pit crew. Fans compete against each other on the TEAM AT&T Pit Box for the fastest tire changing time. You can also try out the latest EA Sports NASCAR Thunder video game for the chance to win TEAM AT&T memorabilia. And, while you are revving up your motoring skills on a video game, AT&T will be happy to charge up your wireless phone for free at their "charging station."

"We are so pleased to be part of this wonderful family event in New Jersey for the third year in a row," said Tom DeVito, vice president and general manager for AT&T's wireless unit in New York/New Jersey. "The balloon festival has it all; the thrills of seeing so many spectacular hot air balloons taking flight, great entertainment, wonderful food and a great country fair atmosphere."

Want more power? The Honda Ultimate Garage holds almost every motor-powered item you could ever hope for. From motorcycles, personal watercraft and power motors to the award-winning Ridgeline, only Honda puts this much power-driven fun and dependable service under one roof. Festival goers can enter the 2007 Honda Ultimate Garage Sweepstakes and may win something ultimate for their own garage.

Into hoops? The NBA's premiere interactive basketball touring program comes to the Festival by way of the NBA Jam Van, a 67-foot 18-wheeler that transforms into 6,000 square feet of FREE cool contests, fun activities and an authentic NBA experience.

The show truck includes a video-game arcade; a state-of-the-art video wall featuring the latest NBA video action; fans can compare their hand and foot sizes, height and reach with those of NBA and WNBA players; and the latest touch screen technology so fans can watch clips of the NBA's greatest plays. The NBA Jam Van is also equipped with 4 baskets ranging in height from 7 to10 feet for fans of all ages and abilities to test their skills. There will also be free samples, product demonstrations and other fun stuff!

And back by popular demand is the Warner Bros. Animation Backlot Tour where kids get a backstage pass to enter the world of Warner Bros. animation. There they'll get a behind-the-scenes preview of the latest Kids WB! episodes and shows and get in on the action and excitement of WB animation and voice-overs, meet Kids WB! characters, and play games! The Warner Bros. Animation Backlot Tour runs throughout the day in the Family Fun Area.



|

Back to index...