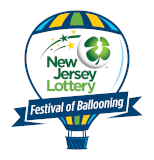 Countdown to Festival Fun

Until the 2020
Quick Chek New Jersey
Festival of Ballooning!
With all of the non-stop, morning-through-night activities we offer, fireworks, concerts, death-defying stunt shows, etc., we know the true stars of our show are of course the balloons.

In addition to the dozens of beautiful sport-shaped balloons that we are so happy to showcase, we are just as thrilled to offer the amazing special-shaped balloons that add to the magic of ballooning, such as the 135-foot Quick Chek Eagle, the PNC Bank American Flag, the 16-story-tall pink Energizer Bunny, and the Pepsi Can.

During the course of the year we attend other festivals and network with pilots around the country in search of new balloons or to bring back past favorites. Last year we debuted Beagle Maximus, the world's largest dog; two years ago we brought Lily & Joey, the lover bees, to the East Coast for the first time.

Returning to the Festival this year is a new and improved Mr. Peanut, who was launched last year in Canada in commemoration of the 100th anniversary of Planters. The new Mr. Peanut, unlike its predecessors, dwarfs the others by comparison. The original versions were a respectable 83 feet tall and 28 feet wide. This Mr. Peanut is an enormous 138 feet tall and 45 feet wide. Previous versions only accommodated the pilot, but this increased size allows up to two lucky passengers to board and fly in the balloon. In addition, this Mr. Peanut has his unique grin and renowned monocled eye on both sides of the balloon so he can smile at everyone both coming and going!

And what would an anniversary be without a cake? New Jersey's own Keith Sproul will help us celebrate in style with The Cake hot air balloon. The Cake measures 80 feet high and 71 feet in diameter, weighs a whopping 807 pounds, and comes complete with 12-foot high candles with 5-foot high flames. The round Cake with its flat bottom floats gently through the skies and can accommodate the pilot and four passengers.

"You're throwing the party and we're bringing The Cake," said Sproul, who flies The Cake for those looking to celebrate special occasions, birthdays and anniversaries up and down the East Coast and Canada.

And what's it like to fly this unusual looking balloon?

"It's a piece of cake," said Sproul.

Told ya they were special.

|

Back to index...