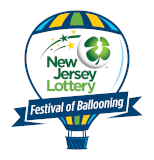 Countdown to Festival Fun

Until the 2020
Quick Chek New Jersey
Festival of Ballooning!
We have 5 mass hot air balloon ascensions scheduled over the Festival weekend. The ascensions are scheduled for early in the morning and early evening when the winds and weather are at their calmest. Arrive early if you want to experience the magic of ballooning up close to the flight line and see the balloon crews arrive to unfurl, inflate and take off in their beautiful balloons.

Here's the mass hot air balloon inflation and launch schedule:

Friday, July 27

--- 6:30 p.m.

Saturday, July 28

--- 6:30 a.m. and 6:30 p.m.

Sunday, July 29

--- 6:30 a.m. and 6:30 p.m.

You, too, can experience that magic carpet feeling of soaring over the beautiful Hunterdon County countryside in your very own hot air balloon ride. But you better move fast – more than 700 rides are expected to be sold at this year's Festival.

Your flight begins when you check in with our Ride Tent and are assigned to a pilot. From there you will bed escorted onto the launch field, where you'll find yourself surrounded by up to 125 hot air balloons preparing to lift off. Once your balloon is inflated and ready to go, you will climb into the balloon basket and then be lifted off the ground to fly amongst the clouds. Your flight will last approximately 30-45 minutes and then you will be gently placed back on the ground. Your pilot will then drive you back to the Festival in the balloon chase vehicle. The whole experience can take anywhere from 2 to 3 hours but can last you a lifetime!

You can take a balloon ride during any of our mass ascensions, Friday, July 27 at 6:30 p.m., Saturday, July 28 at 6:30 a.m. and 6:30 p.m., and Sunday, July 29 at 6:30 a.m. and 6:30 p.m.

Morning rides are $185 per person and evening rides are $195 per person, plus tax. Reservations are strongly suggested and can be made by calling 1-800-HOT-AIR-9 or on the website by clicking on "Balloons" and then "Balloon Rides."

If you want to experience ballooning a little closer to the ground, we offer tethered rides when winds are calm during the day. These balloons are tied to the ground with tether ropes about 100 feet in length. This is a great way to start your day at the Festival as it allows you to see the whole thing at once! Tethered rides last about 5 minutes and cost just $15. Tethered rides can be purchased on-site only at the Balloon Ride Tent located on the Festival grounds.

All hot air balloon ascensions and hot air balloon rides are wind and weather permitting.

|

Back to index...