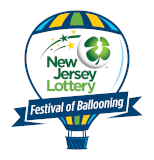 Countdown to Festival Fun

Until the 2020
Quick Chek New Jersey
Festival of Ballooning!
READINGTON, NJ --- The theme for this year's 25th annual Quick Chek New Jersey Festival of Ballooning in association with PNC Bank is "Celebrating 25 Years of Family Fun."

The three-day, jam-packed Festival features a fireworks extravaganza, a nighttime balloon glow, four live concerts, skydivers, children's interactive exhibits and amusement rides, the highest aerial act in the world, hundreds of arts and crafts booths and food vendors, and five scheduled mass hot air balloon ascensions with up to 125 balloons floating over the scenic Hunterdon County countryside. Upwards of 175,000 people are expected for this year's 25th Anniversary celebration, July 27-28-29 at Solberg Airport in Readington, NJ in Hunterdon County.

As part of its 25th Silver Anniversary Celebration, the Quick Chek New Jersey Festival of Ballooning offers a new attraction that you can't miss – really, you'll see it from any point in Solberg Airport – as the Festival presents the Galaxy of Thrills, the highest aerial act in the world.

Tina Winn, also known as Galaxy Girl™, husband John and daughter Ashley will dazzle festival-goers with their death-defying aerial thrill shows, performing daring acts of precision and skill high above the crowd. One of the few female daredevils in the world, Galaxy Girl™ begins her show by climbing up the 12 story high pole, first performing her version of the daring young lady on the flying trapeze act 90 feet above the crowd - without a net or safety devices. She'll then continue to climb the space needle to the top – 127 feet above Solberg Airport - where she performs a variety of acrobatic maneuvers including handstands and free stands while talking to the crowd down below.

Their Cyber Cycle™ motorcycle show is a one-of-a-kind performance in which John rides a motorcycle atop of a circular track 45 feet above the festival grounds. As he goes around and around, the g-forces from the motorcycle lift a trapeze on the other end of the platform off the ground, with Galaxy Girl™ performing additional stunts on the trapeze. The Cyber Cycle™ show has been performed to amazed audiences around the world.

Keeping the action moving is Miss Ashley's Hula Hoop Madness Show in which daughter Ashley performs a variety of demonstrations including up to 60 hula hoops at one time.

"We strive to bring new attractions that our festival goers haven't seen before," said Howard Freeman, Executive Producer of the Quick Chek New Jersey Festival of Ballooning. "The Galaxy of Thrills puts the 'extreme' in extreme sports."

The Galaxy of Thrills featuring Galaxy Girl will be Friday afternoon at 3:30 p.m. and 5:30 p.m.; on Saturday the Cyber Cycle and Hula Hoops Spectacular is at 9:30 a.m. followed by the Galaxy of Thrills featuring Galaxy Girl at 12:00 noon, 3:00 p.m. and 6:00 p.m.; and on Sunday at 9:30 a.m., 1:00 p.m. and 4:00 p.m.

Here are some of the additional highlights:

Comcast and Turner Classic Movies will present a movie under the stars showing of "The Wizard of Oz" at 8:00 p.m. on Friday night, July 27. The film will be shown on an 11-foot-by-14-foot screen in the Family Fun Area following the first scheduled mass hot air balloon ascension. Children in the audience should also enjoy seeing costumed characters of Dorothy, the Tin Man, Scarecrow and the Cowardly Lion who are scheduled to appear. Movie-goers may bring lawn chairs and blankets to the Family Fun Area to watch the film; parents will be able to reminisce with their kids about when they went to the drive-in movies. General admission to the movie is free for all Festival attendees.

"Friday night is going to be a great family night experience at the Festival," said Freeman. "We have our first scheduled mass hot air balloon ascension with up to 125 balloons at 6:30 p.m. Then we have the Wizard of Oz at 8:00. Depending on the winds that night, the balloons may fly right over the screen. Then at 9:30 p.m. we have the Bridgewater Marriott Fireworks Extravaganza."

Also new for this year is the Quick Chek New Jersey Festival of Ballooning's first ever boys band headliners as teen sensations the Jonas Brothers will perform in association with 1560 Radio Disney at 3:00 p.m. on Saturday afternoon and then meet their fans from 4:00-5:00 p.m.

Returning to the Festival after 10 years is the NBA Jam Van, a 67-foot-long 18-wheeler that transforms into 6,000 square feet of FREE cool contests, fun activities and an authentic NBA experience. The show truck includes a video-game arcade, a state-of-the-art video wall, and 4 baskets ranging in height from 7 to10 feet for fans of all ages and abilities to test their skills.

Festival family favorites include The Purina® Incredible Dog Team, which performs extraordinary acrobatic tricks; the Warner Bros. Animation Backlot Tour provides a backstage pass to enter the world of Warner Bros. animation with a behind-the-scenes preview of the latest Kids WB! shows, WB animation and voice-overs; and there is continuous fun for toddlers through teens in the Quick Chek Entertainment Tent.There are also plenty of amusement rides, performances by entertainers such as Polka Dot the Clown and Ollie's Adventures, and musical revues each day throughout the weekend.

Mass hot air balloon ascensions featuring up to 125 sport and special shaped balloons are scheduled for Friday, July 27 at 6:30 p.m.; Saturday, July 28 at 6:30 a.m. and 6:30 p.m.; and Sunday, July 29 at 6:30 a.m. and 6:30 p.m., wind and weather permitting. In addition to signature balloons such as the Quick Chek Eagle; the PNC Bank American Flag, the lover bees, and the Energizer Bunny, new balloons include the U.S. debut of a new and improved Mr. Peanut and the 25th Anniversary Cake hot air balloon.

Tickets to the 25th annual Quick Chek New Jersey Festival of Ballooning are available at all Quick Chek stores as well as at the Festival gate at Solberg Airport. Adults $17 in advance, $25 at the gate; children ages 4-12 $7 in advance, $10 at the gate; children age 3 and under are free. Advance tickets are available through midnight Thursday, July 26. For further information please call 1-800-HOT-AIR-9 or visit online at www.balloonfestival.com

.

|

Back to index...