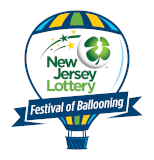 Countdown to Festival Fun

Until the 2020
Quick Chek New Jersey
Festival of Ballooning!
With all of the planning and hard work that went into this year's 25

th

annual Quick Chek New Jersey Festival of Ballooning in association with PNC Bank, it's hard to believe that it came and went so fast – and that we're already working on 2008!

We're proud that we were able to offer 100% balloon activity all weekend long, given the poor weather conditions that surrounded the greater New York-Philadelphia metropolitan area over the weekend. Despite the gloomy forecasts we enjoyed our share of blue skies and the mass ascensions on Saturday and Sunday were truly spectacular, especially Saturday morning's "Jersey Box" where the balloons flew in a box pattern over the crowd and back to the Balloon Launch Field! Another Quick Chek New Jersey Festival of Ballooning first!

Our thanks to all of our pilots for putting on great shows for the more than 145,000 people in attendance over the weekend … not only up in the sky with up to 125 beautiful balloons but during Saturday night's New Jersey Office of Travel & Tourism Balloon Glow, too!

The Festival got off to a flying start Friday night with the legendary Chuck Negron from Three Dog Night taking the Bud Light Main Stage and Dorothy dropping in for our very first fly-in movie courtesy of Comcast and Turner Classic Movies. Teen sensations the Jonas Brothers sent thousands of girls into a headspin with their performance and their meet-and-greet Saturday afternoon. John Popper and Blues Traveler then rocked Solberg Airport that night as the New Jersey Office of Travel and Tourism Balloon Glow lit up the sky followed by the Bridgewater Marriott Fireworks Extravaganza. Rock-and-roll Hall of Famers Creedence Clearwater Revisited then stopped that burst of liquid sunshine on Sunday afternoon to set up another great mass ascension to close the Festival Sunday night.

The midway was filled with happy families who enjoyed the many amusement rides, food vendors, crafters, exhibitors, the Quick Chek Entertainment Tent and the AT&T Pit Stop.

And new attractions such as the Galaxy of Thrills still have us shaking our heads in disbelief with images of Galaxy Girl doing headstands at the top of that 127-foot space needle!

Check your emails and our website,

www.balloonfestival.com

, to see what's in store for 2008 when we start another quarter century of family fun!

|

Back to index...