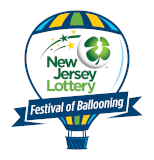 Countdown to Festival Fun

Until the 2020
Quick Chek New Jersey
Festival of Ballooning!
We would like to thank our sponsors once again for helping make the 25th Silver Anniversary Celebration possible. This begins of course with Quick Chek, our fabulous title sponsor for the past 15 years, and PNC Bank. We would also like to thank our marketing partners Optimum, AT&T, New Jersey Skylands Insurance, Bud Light, New Jersey Office of Travel & Tourism, and Comcast; and our Gold sponsors Pepsi, Flat Earth, S&D Coffee, Inc., Sara Lee, Jack & Jill, and Coca-Cola.

Click here for a complete list of sponsors.

|

Back to index...